We offer a quality range of Petroleum Tanker Safety Fittings, which are employed in flammable liquid storage tank.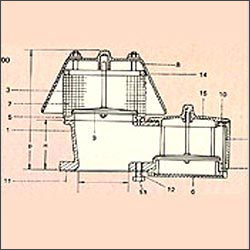 We Are The Manufacturer And Supplier Of Breather Valves Which Have The Following Types:
Teleflo Pressure & Vacuum Relief Valves, Teleflo Vacuum Relief Valves, Teleflo P.V. Valves, Tyros Valves, Teleflo Emergency Vents, Teleflo Free Vents, Teleflo Rim Vents, Teleflo In Line Spring Loaded Vacuum Relief Valves Etc., With Integral Flame Arrestors.

Breather Valves & Tank Fittings Flame/Spark Arresters For Storage Tank, complete range of sizes :- 15 NB to 600 NB Flame and Detonation Arresters, Spark Arresters Free-Emergency-Conservation Vents Dip Gauges and Gauge Hatches Vent nuts/Caps, Syphon bush, Fill caps, Lightning Arresters etc. Tyrus Valve, Vacuum Relief, Pressure Relief Valves. Available in : CS, CI, SS304, 316, AI etc. For more details on Tank Fittings, Flame / Spark Aresstors please refer our section on 'Safety Fittings'.

Model: PV-100
Nominal Size*
A
B
C
D
H
50
250
206
209
195
75
75
409
269
175
215
75
100
500
375
325
350
175
150
619
462
387
431
194
200
762
562
481
525
225
250
994
744
619
669
244
300
1175
887
731
819
244
350
1200
590
755
850
220
500
1250
770
955
900
270

| | |
| --- | --- |
| * Flange Dimensions as per order | All Dimensions are in MM |
Model: PV-1210

Teleflo Model 1210 valves are designed primarily for pressurised storage vessels or blow-down lines. Material combinations are determined by operating conditions of temperature and corrosive atmospheres. Available as standard in all aluminium, cast iron body, stainless steel trim, or other materials on special order. Spring loading of pressure pallet allows for higher settings than available with dead weight types, standard non-metallic seat inserts are Neoprene and Teflon.

Model: PV-1220

Teleflo Model 1220 valves are designed to vent low pressure vessels. Material combinations are designed by operating conditions of temperature and corrosive atmospheres. Available as standard in all aluminium, cast iron body, stainless steel trim, or other materials on special order. Standard non-metallic seat inserts are Neoprene and Teflon.

Model: PV-1230
Features:
Connection-Flanged
Pallets of Alor SS 304
Tank accessory suitable storage tanks of chemicals & Hydrocarbons
Seat by dead weigh pallets of C.I. Al or SS 304
Suitable for Low Pressures and Low Vacuum

Model: PV-1230
Features:
This model similar of model PV1220, is suitable only Vacuum service. The disc is either weight loaded or spring loaded.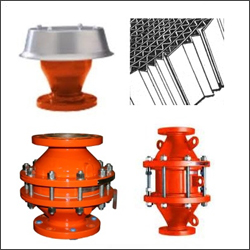 We Are The Manufacturer And Supplier Of Flame Arrestors & Safety Fittings Which Have The Following Types:
Teleflo 'In Line' And 'End Of Line' Detonation Type And Deflagrations' Type Flame Arrestors Or Arresters, Teleflo Spark Arrestors, Teleflo Emergency Vents, Teleflo Free Vent, Teleflo Breathers PVRV, Teleflo Vent Head Caps, Teleflo End Of Line Vents, Teleflo Flame Banks, Teleflo Flash Arrestors, Teleflo Gauge Hatch, Teleflo Slot Dipping Devices , Etc.

Operation
Flame Arrestors, detonation flame arrestors, detonation arrestors, flame detonation arrestors stop the propagation of a flame by absorbing and dissipating heat through the large surface area of the bank sheets. Ignited vapor attempting to pass through the arrestor is forced through small passages within the bank assembly. Heat is absorbed, lowering the temperature of the gas below its ignition point and quenching the flame. Flame Arresters are typically used in the chemical, petrochemical and pharmaceutical industries on applications such as storage tank facilities, flare stacks, incineration systems, storage tank roofs or digester convertor to prevent the propagation of confined and unconfined deflagrations. Detonation flame Arresters additionally stop the high pressures and velocities that can result in detonations. Incase of ignition of vapors they burn harmlessly at the flame arrestor, preventing ignition of vapors in the tank and subsequent explosion.

Design Features
The main benefits of the Teleflo Atmos®. detonation flame Arrestor, flame arrestors, detonation arrestors, flame detonation arrestors are derived from ifs unique element design. The large channel openings provide excellent pressure drop to flow and enhanced flow characteristics often resulting in reducing overall size and cost of both Flame arrestor and piping. In addition to this the less restrictive nature of the larger channel openings result in less clogging and easier cleaning - both important maintenance considerations. Finally the element enables higher operating pressures to be achieved. The 'Teleflo Atmos®' Flame Arrestor after extensive research has been certified and type tested by FCRI, B.V. and other government agencies, and has also received the most stringent approval for Flame Arrestors, incorporating extended burn time performance, and have acceptance with B.P.C.L, I.O.C.L, H.P.C.L, L & T , REL , RIL & B.H.E.L., and many chemical, pharmaceutical , power industries and petrochemical industries.

Configuration
'Teleflo Atmos®' Flame Arrestors are available for all common gas groupings to IEC or NEC codes, and supplied in range of sizes/materials/options; Net Free Area - three to four times, Bank Assembly - extensible and removable. Special "off-set" housing design is not affected by condensate accumulation, even when installed in horizontal piping. The result is minimal pressure drop, increased flow capacity and heat dissipation. Ordering information given below
Size:
1" to 36" Refer graph for sizing.
Location:
Within 15' (4.6m) upstream of flame source.
Pressure Dop:
Refer Graph, Should Not Exceed 1 PSI.
Materials:
Low Copper aluminum, steel, SS 304/316 stainless steel.
Codes:
API, ASME, CCE, IS etc.
Tests:
Type test, pr, drop, flame propagation, API 2000.
Element:
Plate stack or crimped metal
Installation:
In-line, end-of-line, inverted, weather hood requirement.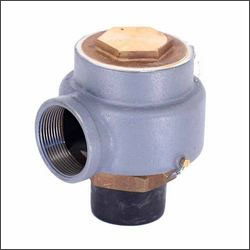 Vacuum relief valves for positive mechanical protection of your positive displacement blower. The two series that are most used for blower protection is the 337 for pressure systems and the 215V for vacuum systems.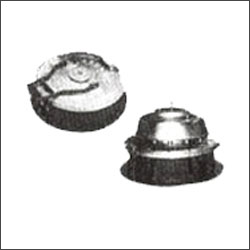 Placed on the top of flammable liquid storage tank, our Emergency & Conservation Vents are used for relieving excessive internal pressure caused by the exposure of the tank to fire. Explosions caused by such conditions may be readily avoided by providing adequate emergency vent, emergency relief vent, end of line vent which permit the vapors to escape from the tank. These emergency vents usually include pallet assemblies, which are weighted to stay closed under normal pressure conditions and which open only when a predetermined pressure is attained, thus relieving the abnormal volume of vapor generated under the fire condition.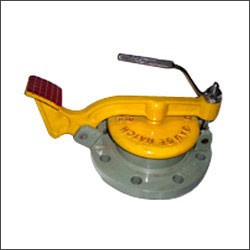 Made of quality material and components, our Gauge Hatch is used for controlling evaporation process and for dip measurement or for sampling purpose. Gauge Hatch placed on the top of the tank, these hatches can easily be opened by pressing the latch with hand or foot. Our range of Gauge Hatch is provided with bleeder attachment that makes it possible to relief pressure before opening the tank.

APPLICATION :
FLUIDYNE range of Gauge Hatches allow easy access to atmospheric liquid storage tank for manual level measurement (dipping), temperature measurement and sampling.

BENEFITS :
* Robust construction to cope with regular use.
* Range of size and materials to suit a wide range of application.
* Non-sparking feature, provide by the use of Nitrite rubber or PTFE insert.
* The cover is designed with a condensation rim. This encourages liquid drainage form the surface to reduce the possibility of freezing.
* Lockable handle and gas tight seal to 2.5 psig.

PRINCIPLE OF OPERATION :
Provides tank access where manual level gauging, temperature measurement or sampling is required the safety pedal allows the operator to open the Gauge Hatch whilst remaining 'hand free' to carry out required measuring. ORDERING CODE :
MODEL-SIZE-PROCESS CONNECTION-MATERIAL-INSERT e.g. (FGH 100, 4", ANSI 150# Connection, Aluminium Body, Nitrite Insert).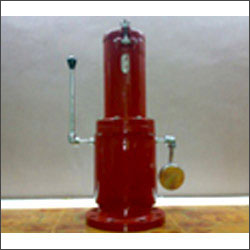 Slot Dipping Device is designed to provide a convenient and safe means of manually measuring the levels and taking samples of petroleum, petrochemical, chemical and other volatile or hazardous liquid in bulk storage tank.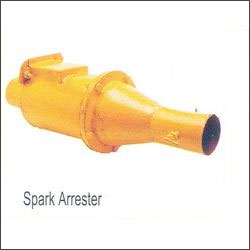 It is a muffler for exhaust pipe in both light and heavy vehicles. It is mandatory to use in the highly sensitive area / zone.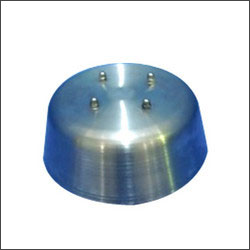 Free vent for use on any atmospheric tank, protecting against internal pressure build up. The large weather hood is designed for maximum air flow from your tank though the free vents.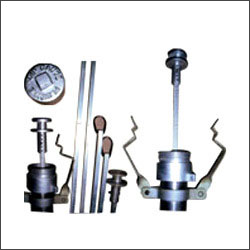 We Are The Manufacturer of Supplier Of Dip Stick And Dip Rods Which Have the Following Types:
Teleflo Dip Level Sticks, Teleflo Dip Rods And Dip Gauges Tapes And Scales With Adaptors And Covers, Teleflo Slot Dipping Device, Etc.

Our Dip Sticks are made of superior quality non Sparking material with calibrated scale for fast and accurate measuring of the fuel level. These equipment are desinged for the personal safety of the person inspecting the tank. For measurement , simply dip the stick in the tank and the fuel level can be read off against the calibrated scale on the side of the dip stick.

Accessories like dip stick adaptor, dip stick housing and dip cap can also be supplied with the dip stick.

Dip Stick calibration is tracable to NABL, National and International Standrads.

MOC: Aluminium (Standard), Brass, Bronze, Stainless Steel available.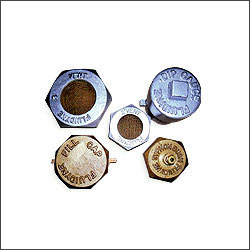 Our vents and fill caps are specially designed to hold a constant tank pressure, reducing evaporation loss, contamination intake, over expansion, and contraction of the tank. These caps are generally used for above ground storage and tanks holding gasoline or diesel. Additional elements can be mounted on top of the filler cap for specific operational purposes.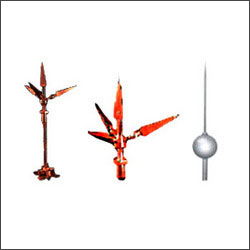 We Are The Manufacturer of Supplier Of Lightning Arrestors Which Have the Following Types:

Various Types Of Teleflo Lightning Arrestors Rods And Earth Electrodes In Copper Aluminum And Steel.

MODEL LA-100
The lightning protection system consists of Aerial Elevation Rods at 100 M radius with copper spikes, Brackets, Down Conductors and Intermediate Aerial Elevation Rods at every 20 M, Saddle with Clamps and Earth Electrodes.

Lightning is actually a visible discharge of static electricity within a cloud, between clouds and also between cloud and earth. The light protection system offered by us provides a means by which this discharge might leave or enter the Earth without actually passing through and damaging non-conducting parts of a structure. The Lightning Protection System has undergone many changes and today's lightning protection system offered by us exhibit the best in terms of design, materials and installation, thus valuable life and property can be well protected from nature's hazardous phenomenon like lightning. An important factor to note is that the higher the spike, the more the radius of protection. There are different types of lightning arrestors or thunder spikes available, the important issue being to select the one that will achieve the purpose.

Factors to be considered for selection are mainly peak values of discharged current and voltage. A design specification will be necessary for a particular area. General Design is as per BS6651:1992 code.. Standard Manufacturing range include capacity of 5KV to 36KV and current rating of 5KA or 10KA. The magnitude of the surges is 10kA (10,000A) for station class arresters and 5kA for intermediate and distribution class arresters. Other ranges are offered on request.

Teleflo offers advanced earthing electrodes which are very effective and ensures safety and have been designed to reduce soil resistivity locally and improve the grounding systems. They are very simple, totally maintenance free Fit & Forget Installations, Corrosion Proof, Weather Proof, Water resistant, Maintenance Free for almost 10 years, Highly Durable, Life Saving and Cost Effective Solution for the lifetime. Proper earthing ensures longer life of the whole system.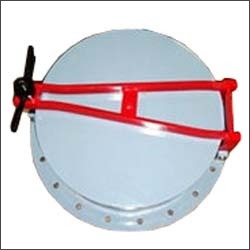 We bring forth our clients a qualitative range of Manhole Covers. These are designed and manufactured using quality materials and in accordance with the set industry standards. Our range is considered as non-sparking low pressure manhole covers and provides easy access to low pressure storage tanks.
Benefits:
Robust construction to cope with regular use
Range of size and materials to suit a wide range of application
Non-sparking feature, provided by the use of Nitrile rubber or PTFE insert
Principle of Operation:
These covers provide access to tanks for maintenance and cleaning purposes. The manhole is secured by a transverse beam, which is attached to the center of the cover. This ensures even distribution of the holding down force to form a gas tight fitting.
Physical Attributes:
Size: 20", 24" or special as required
Process Connection: API 650 (20" and 24")
Materials: Carbon Steel or special as required
Insert: Nitrile/ PTFE.
Pressure Setting: <2.5 psig
Ordering Code:
| | | | | |
| --- | --- | --- | --- | --- |
| Model | Size | Process Connection | Material | Insert |
| 100-20-132 (API MH 100) | 20" | API 650 flange | Carbon Steel | PTFE insert |
After Sales Support:

We also provide clients with comprehensive spares support and term preventative maintenance schemes. These are offered to clients with the help of our product-trained technicians who work as per the requirements of our clients.