We Are The Manufacturer And Supplier Of Pipeline Specialty Valves Which Have The Following Types:

Teleflo Float Valves, Teleflo Flush Bottom Valves, Teleflo Instrument Valves, Teleflo Instrument Valve Manifolds And Fittings, Teleflo Pressure Gauge Manifold Valve, Etc.

Supplier & Manufacturer of Float Valves & Equilibrium Float Valves. Our product range also comprises of Safety Relief Valves, Valves and Safety Fittings.
Teleflo premium quality float valves are used to control level of liquid in tanks and vessels, also known as Plunger /Piston Operated Float Valves. They are operated by lever operated float. Soft seat of PTFE or Neoprene is provided for high shut off. Float Valves are available in Spherical, Cylindrical and Capsule shape in Copper, Stainless Steel PP/PVC/PTFE. Float Valves are available in Bronze, SS 304, SS 316, PP/PVC/PTFE. Size from 15NB to 300 NB available for horizontal, vertical or in-line installation.
NOTES:
PLUNGER/PISTON TYPE
HYDRO TEST @ 1.5 TIMES DESIGN PRESSURE
CONNECTION: SCREWED/ FLANGED AS PER ORDER
CERTIFICATED DRAWING WILL BE SUBMITTED ON RECEIPT OF ORDER.
MOC: CS/BRONZE/SS 304/SS 316.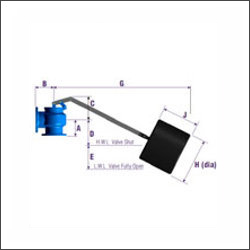 Fluidyne 'Equilibrium Float Valves or Level Control Ball Float Valves' also known as 'Balanced Piston Float Valves' are used for higher size, flow and pressure requirements. They are mechanical float operated automatic level control valves suitable for tanks and reservoir. The slow rate of Equilibrium Float valve closures ensure reduction of induced pressure within the main. Equilibrium Float valve are rigid in construction having angle or straight discharge with inlet/outlet flange or screwed connection. The piston balances the downward hydro static force on the seat enabling tight shut off when the required level is reached and smooth opening when the level goes down. Bolted cover plates seal and cylinder form ingress of debris. The maintenance is simplified by easily replaceable piston seal and rubber disc ring.
Supplier & Manufacturer of Pipe Supports & Sliding Bearing Pipe Support. Our product range also comprises of Safety Relief Valves, Valves and Safety Fittings.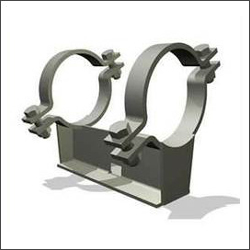 Teleflo make Low Friction Sliding Bearing Pipe Support which are manufactured and supplied to customers specifications suitable of lengthy cross country pipelines for line sizes 2 " to 36". Also Known us Slide Bearing.

Other Information
Port of Dispatch: MUMBAI , INDIA
Delivery Time: 8 TO 10 WEEKS