Offering you a complete choice of products which include Level Indicators such as Magnetic Level Indicator, Remote Level Indicator, Float & Cord Level Indicators, Top Mounted Level Indicator and Side Mounted Heavy Duty Indicators.
We bring forth our esteemed clients a qualitative range of Magnetic Level Indicators. These are also known as liquid level indicators and are designed for offering high clarity indication of liquid levels. This range comprises a magnet in the float wherein the indicator rises or falls with the liquid. The float transfers this information to the indication rail that is mounted on the outside of the tube. Our range also comprises white and red indication flaps that represent air and liquid levels respectively. These are ideal to be mounted in various orientations such as the side, top or bottom of the vessel. Moreover, these are suitable for use in high pressure, high temperature, colored and corrosive liquids.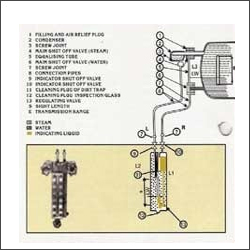 We have in our repertoire a qualitative range of Remote Level Indicators. These are also a commonly used device for water-level/ liquid level indications. This range facilitates the user to detect water-level fluctuations in the boiler drum and is very delicately designed to provide flawless indications.

Our range of remote level indicator is highly accurate and helps users track the displacement of water levels in the boiler. The increasing water column in the boiler presses the red indicating liquid (sealing liquid) from the first phase into second phase and then indicates in the Inspection glass of the indicator. Further, these displaced water from Phase one flows into Phase three and then into the boiler through the condenser. Moreover, the liquid in the inspection glass also falls when the water level in the drum is reduced.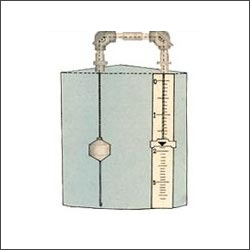 Our clients can avail from us a qualitative range of Float & Cord Level Indicators. These are highly efficient, perfectly aligned and madder available to clients with pulley and scale. This range is ideal for outdoor usage, owing to its dust proof pulley housing. We also provide these indicators with Spring Tensioning Assembly for guide wires. Moreover, these are also made available in customized designs as per specific industrial requirements of our clients.

Salient Features:
Ideal for all types of Storage Tanks
Perfectly aligned guide wire, pulley and scale
Includes spring tensioning assembly for guide wires
Ideal for outdoor installations with cast aluminum pulley housing
Float available of various desired designs and materials as per applications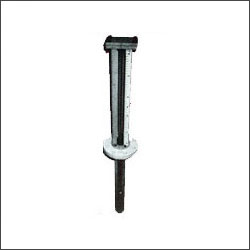 The Top Mounted Level Indicators that we offer provide high levels of security to the storage tanks. These indicators reduce the risk of hazardous fluids getting spilled through any leakage and comprise floats that are channelized in the tank through perforated pipe and sealed glass tubes. The float steam tip that is included in these indicators has in-built pointers, which correctly indicates the level.
Specifications:
| | |
| --- | --- |
| Mounting Flange | Standard 4" NB or 6" NB |
| Float | SS304, SS316, P.P., HDPE, PVC, TEFLON, Glass, etc. |
| Guide Pipe | M.S., C.S., SS304, SS316 with Collar, HDPE, P.P., P.V.C. TEFLON, FRP, etc. |
| Indicator | P.P., PVC, or Teflon. |
| Scale | Acrylic or Bakelite with least count of 0.5 cm or as per request. |
| Tank Depth | 3.5 to 5 meters |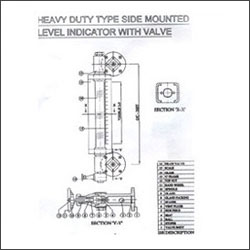 We are engaged in offering our clients with a qualitative range of Side Mounted Heavy Duty Indicators. These are designed to withstand extreme working conditions and are manufactured using sturdy materials. Our range is acclaimed for its prolonged durability and excellent performance attributes. This range comprises built-in glands and is also provided with valves as per the clients' requirements.
Specifications:
| | |
| --- | --- |
| Process Connection | Flanged on Screwed union |
| Glass Tube | Borosilicate, Heavy wall |
| Packing | PTFE Gland |
| Guards | Rectangular box type change; machine made from min. 3 mm C.S. Sheet |
| Scale | Bakelite of Acrylic engraved |
| Least Count | 0.5 cms. Or as per request |
| Rating | 5 kg/cm² to 15 Kg/cm² depending on length |
| CC Distance | Max. 6 m |
| M.O.C (Contact parts) | M.S, C.S., SS 304, SS 316, P.P., HDPE, PVC, Teflon, F.R.P., and any other on request. |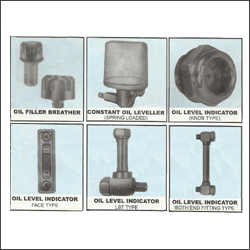 The Teleflo Oil Level Indicator (OLI) was developed in response to the need of maintenance professionals to gauge the oil level inside large tanks, gearboxes and reservoirs. The Telelfo Oil Level Indicator is a clear borosilicate or acrylic tube or flat glass with ¼", ½", ¾" BSP or NPT threads at one or each end. Red and green lines are sometimes included with the teleflo oil level indicator to mark upper and lower limits, or to designate running oil level and idle oil level. It can be installed with the optional breather at the top port.. If the user requires a closed loop, top connection can be used as a connector port to feed back into the system. Operators can visually monitor the level of and take appropriate preventive action. The knob type oil level indicator is the simplest oil level monitoring indicator available in sizes 1/2" to 2" BSP(M).