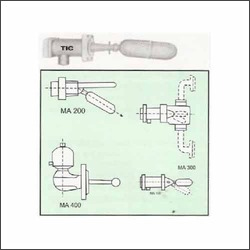 Teleflo level switches
are suitable for fitting into tanks and pressure vessels for indicating and controlling the level under atmospheric, vacuum and pressure conditions, magnetic switches are snap action and glandless and eliminates any chance of leakage.
Internal Side Mounted Level Switch
is magnetically operated and is of micro, mercury or air valves tight. material of construction is SS 304, SS 316 or bronze. Switch Housing is of Cast Aluminum or stainless steel flame-proof/ weather- proof.
Application includes low / high level alarm, pump control, motorized valve control, diaphragm or piston, control valve operation.
These switches are normally mounted into sides of the tanks or pressure vessels. These level switches are of low differential and are normally used for single level control. They can be mounted externally through isolating valves for application like boilers, reactions-kettles, etc which can be isolated for regular servicing